Love and Romanticism in Barusen Hills, Ciwidey, South Bandung
Love and Romanticism in Barusen Hills, Ciwidey, South Bandung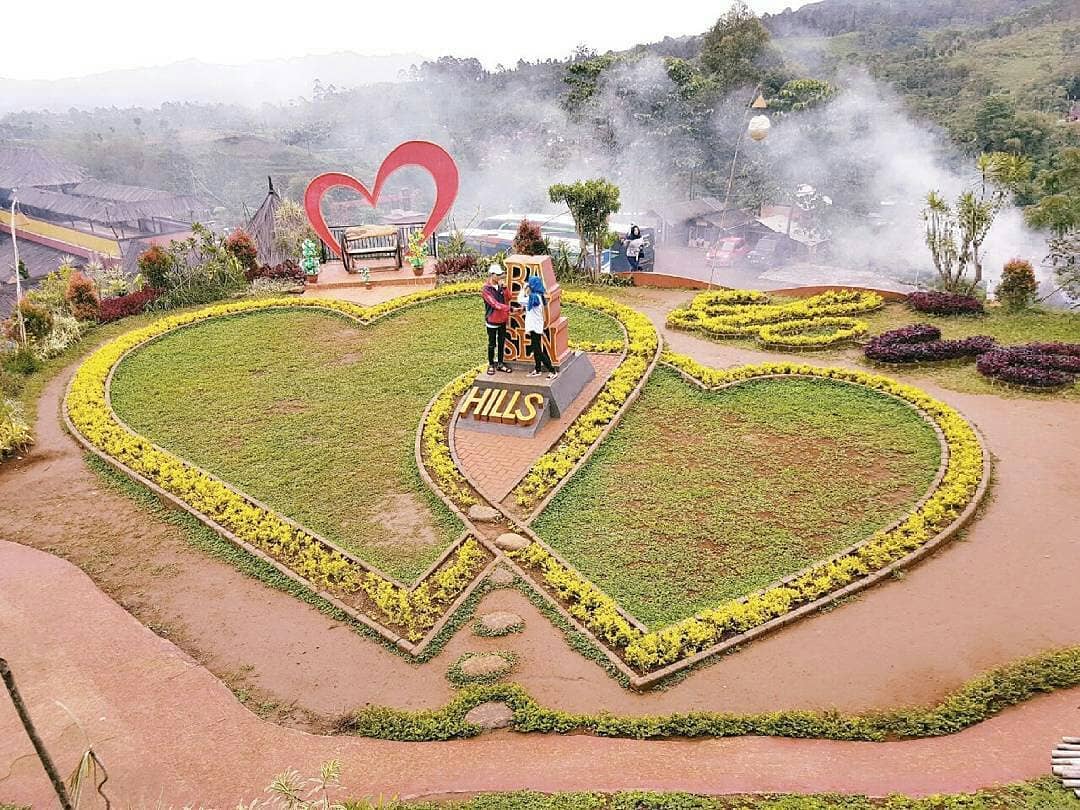 For those of you who want to enjoy a romantic vacation with your partner, Barusen Hills in South Bandung regency will be the right place. Barusen Hills is a tourist attraction that is now being viral in Bandung. Especially among young people.
As we know that the trend of taking instagram pictures in a beautiful place is now a common thing. Well for you the lovers of photography then Barusen Hills is also going to be a very interesting place to go.
Being in this Barusel Hills we will be treated to many beautiful scenery. It has been set in such a way to create a place that spoil the eye.
It is located in the area Gambung, Ciwidey, South Bandung regency. Which makes Barusen Hills have a nice cool breeze. Visitors who come will be more at ease linger in Barusen Hills.
Romantic Photo Spot in Barusen Hills
There are many interesting photo spots that we can find in this Barusen Hills. A few spot photos here is perfect for couples who are in love.
Some spot of love-themed photos that exist in Barusen Hills is a post that acts of bamboo shaped love. We can also see the scenery Barusen Hills widely from the top height.
There are other photographed areas or spots in the right Barusen Hills. To capture your love story like love gardens, love sign in the pool and also the flower garden.
Flower garden in Barusen Hills itself presents a variety of beautiful colors. This place is frequently used as the location of pre-wedding photos.
This place is also called Barusen Ciwidey Hills. You can also find an interesting spot of photography that is typical of a typical Dutch windmill.
Do not forget also spot photos Barusen Lake or Lake Barusen. You can ride a boat that will produce cool and instagramable photos.
Check our other article:
Top 6 Largest Shopping Mall in Bandung That You Can Visit On Holiday
Where Should You Go While Visit Northern Bandung?
10 Most Unique Thematic Parks in Downtown Bandung
8 Favorite Places to Hang Out in Bandung With The Best Concept Ever
Hidden Paradise in Western Bandung That You Probably Don't Know
Traveling to Barusen Hills alone will not make you worried about the amenities. Because the supporting facilities here are fairly complete.
Not only public facilities, in tourist attractions such as parking areas, rest areas, mosques and toilets, but here you can also find other facilities such as canteen, playground and water park.
With the playground and water park then you who come with children will also be able to enjoy the same tour.
Water park in Barusen Hills itself is highly qualified for a place of exclamation because there are many rides games that can be obtained.
Some of the rides of the game in the water park are water slides, spilled bucket and so forth. One other facility that you can also enjoy in Barusen Hills is a villa for overnight stays.
Admission Price and Operating Hours
To enjoy this Barusen Hills tour you only need to pay entrance fee of Rp 20.000 / person on weekdays. While on the weekend (weekend) entrance fee rose to Rp 25.000 / person. This ticket alone includes a ticket to enjoy the swimming pool.
To go to Barusen Hills you can come every day from 08.00 AM to 05.00 PM.
Routes and Transportation Facilities
You can visit Barusen Hills in the area Gambung, District Ciwidey, South Bandung regency. Although easy access and there is also a public vehicle that goes to Barusen Hills, but will be more comfortable when you use a personal vehicle.
With your private vehicle will indeed avoid the congestion because the route of the road. In addition to that, the advantage of using a private vehicle that we become more comfortable in the car because it does not coincide with passengers.
But what if you find it difficult to bring a car because of a place away from Barusen Hills. Do not worry, there is a Bandung car rental that could be a solution. With Bandung car rental you will feel the sensation of bringing your own car.
Well one reference where Bandung car rental that you can choose is Dirgantara Car Rental. With 30 years of experience then Dirgantara Car Rental will be a qualified place to make your holiday activities more exciting and fun.