Selfie Frenzy, Adrenaline Pumping in The Lodge Maribaya
Selfie Frenzy, Adrenaline Pumping in The Lodge Maribaya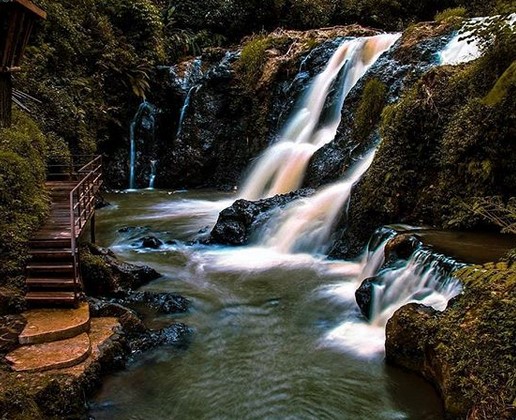 The one destination that is gaining popularity located in the Lembang area of ​​West Bandung, The Lodge Maribaya comes with a variety of exciting things from adventure, adrenaline as well as photography and culinary activity. The Lodge Maribaya has actually been operated since 2006. But because it has not being opened to public the area of ​​The Lodge Maribaya which was then only being used for private camps only. Well after opened to public by providing some unique facilities back in January 2016, The Lodge Maribaya was booming with go-getter-instagram tourist and immediately get a lively response from the public.
At The Lodge Maribaya Lodge we can enjoy the beautiful natural scenery. The panorama we can find here is  the scenery of  hills, valleys and also the pine trees that thrives and fill with lushes of green. To enjoy the beautiful scenery has been provided several substations of view for more seem more optimal. With the view of nature that pamper the eyes of this photography activity here will be able to produce cool and Instagramable photos.
The Lodge Maribaya located in the Lembang area with an altitude between 1,312 to 2,084 meters above sea level, making the air temperature here cool and comfortable. With the air temperature range between 17 ° -27 ° C make us here can relax and relax with optimal. Any saturation and fatigue that you bring here will soon disappear.
Not only enjoy we enjoy the scenery alone. At The Lodge Maribaya we can also enjoy some rides that will test the adrenaline like ride Gantole where you will fly with paragliding. Another adrenaline test activity is to ride Bamboo Sky and Sky Tree that keeps us at the top of a tree with a certain height to enjoy the scenery or take pictures. Next, the challenging rides to do are either Sky Swing where we will swing above the heights as well as the Sky Bike that allows us to ride above the altitude by crossing the valley. Lastly there is Hot Air Baloon rides where you will ride a hot air balloon and fly over the altitude.
Check our other article:
As for you who have an adventurous soul you can camp with your own equipment or with Glamor Camping service (Glamping) that provided by the camp site with full facilities a la hotel. With this unique orange-shaped onion tent, you can enjoy Glamping with such services at the hotel starting with full servings such as bedding, bath tubes, electric plugs, and more.


After tired of activity and stomach feels keroncongan then you can berkuliner around the area of ​​The Lodge Maribaya with several dining options. Places to eat that we can go here namely Hawu Kitchen, The Pines Cafe, and also Soerabi Corner. In addition to the Lodge Maribaya this we can also find other facilities such as a large parking area, places of worship, toilets, playground, outbound area and a wedding that can be rented.
To enter and enjoy The Lodge Maribaya you have to prepare entrance fee of Rp 15.000 for weekdays (weekday). While on weekends (Saturday and Sunday) the entry fee is Rp 25,000 and Rp 35,000 on national holidays. Do not forget also the opening hours of The Lodge Maribaya ie every day from Monday to Sunday from 09:00 to 17:00 pm. The Maribaya Lodge is yours to visit at Maribaya Street no. 149/252, RT. 03 / RW. 15, Babakan Gentong, Cibodas, Lembang, West Bandung regency, West Java.
Also Read : Challenge Yourself at Hammocking Citatah!
To enjoy the tour of The Lodge Maribaya to the maximal you can rent Dirgantara Car Rental as a travel solution. With Bandung car rental service from Dirgantara Car Rental is certainly can make a tour in in Bandung memorable. Supported by some qualified fleets such as Toyota Hiace van rental in Bandung you can enjoy the tour to The Lodge Maribaya with ultimate comfort and freedom