Where Should You Go While Visit Northern Bandung?
Where Should You Go While Visit Northern Bandung?
Spending weekend along with family will be a priceless routine and happiness for everyone. Besides refreshing your mind, it provides a new experience to our family. As we talk about tourist attractions in Northern Bandung, surely there is no ending then, because the city has a lot of new fancy spots from year to year.
Northern Bandung is very identic to Lembang. In fact, there is not only Lembang, but the visitors will probably mention Lembang to be visited in Northern Bandung. It is because Lembang is not only easy to be accessed, but also provides much selection of tourist attractions, supported by fascinating nature and adequate facilities that cause Lembang as the most favorable destination in Northern Bandung.
Where Should You Go While Visit Northern Bandung? The following lists are some tourist attractions in Northern Bandung, specifically around Lembang :
1. Tangkuban Perahu Mountain
The glamor of Tangkuban Perahu is about its big crater. The crater itself raises up a fabulous scenery when you come there. Even though classified as an active volcano and sulfur gas still comes out of the crater, but Tangkuban Perahu is still safe to be visited. The story behind Tangkuban Perahu is related to the legend of Sangkuriang, who built a big boat and kicked it upside down until became a mountain.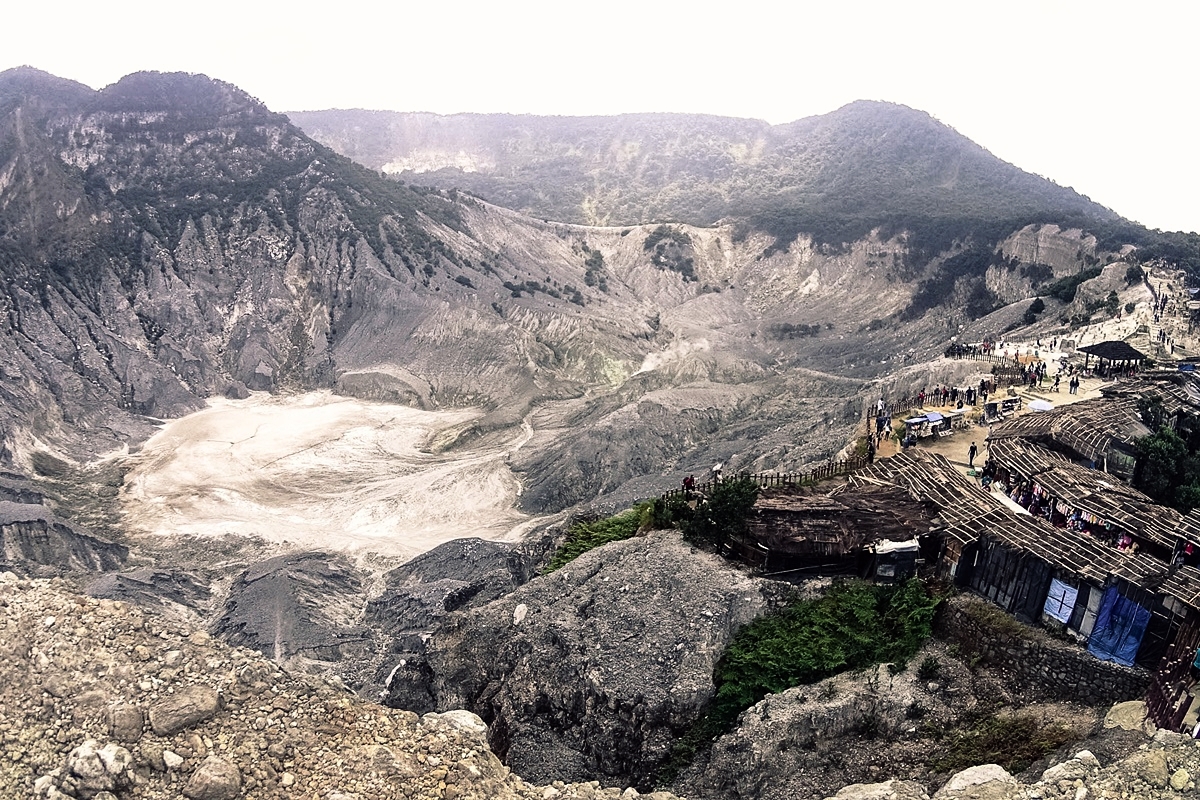 Via : WordPress
2. De Ranch Lembang
De Ranch Lembang provides a cowboy-like atmosphere where you can pretend to be a cowboy by riding a horse and wearing full equipment of cowboy costume. The buildings and the tents totally give you the nuance of cowboy village. When you are visiting this place, you can even swap the entrance ticket with fresh milk. In addition, there are a lot of games you can ride and will spoil the kids.
Via : Pergidulu
3. Floating Market
You can enjoy the environment while eating high-quality food at floating market. All the things are bundled in the unique and interesting concept of floating market, where all the foods are sold in the different boats. Floating Market is also equipped with a lot of facilities and modern rides. It is specifically grouped into 3 main objectives: playground, education area, and culinary. Because of those, Floating Market becomes one of the most crowded tourist attraction in Northern Bandung.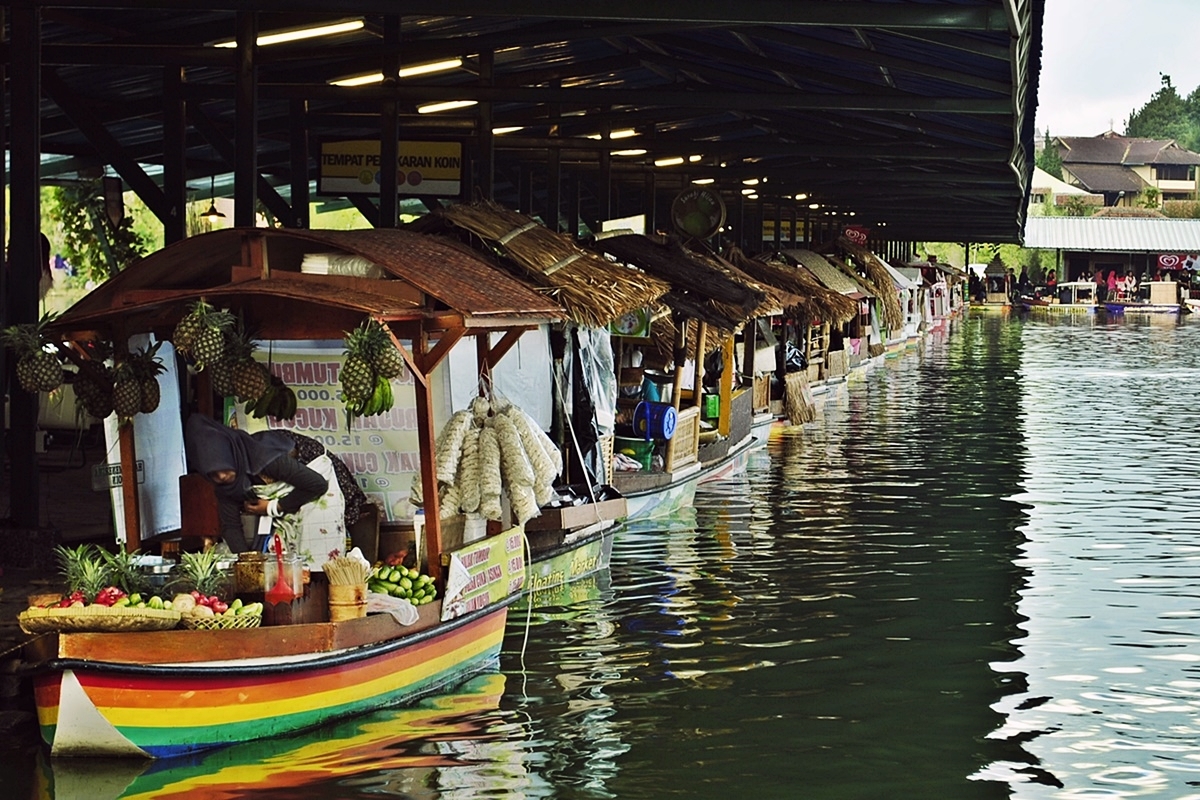 Via : WordPress
4. Dusun Bambu (Bamboo Village)
Dusun Bambu Lembang adopts the theme of back to nature that stands out many kinds of natural sceneries and modern facilities like villa, restaurant, and cafe. You can do a lot of fun activities here, such as riding a bicycle, camping with family, and doing other outdoor activities.
There are also some restaurants to spoil your belly. However, the most popular among teenagers is probably Lutung Kasarung Restaurant, because its concept and design are quite unique, looks like bird nest hanging in the tree.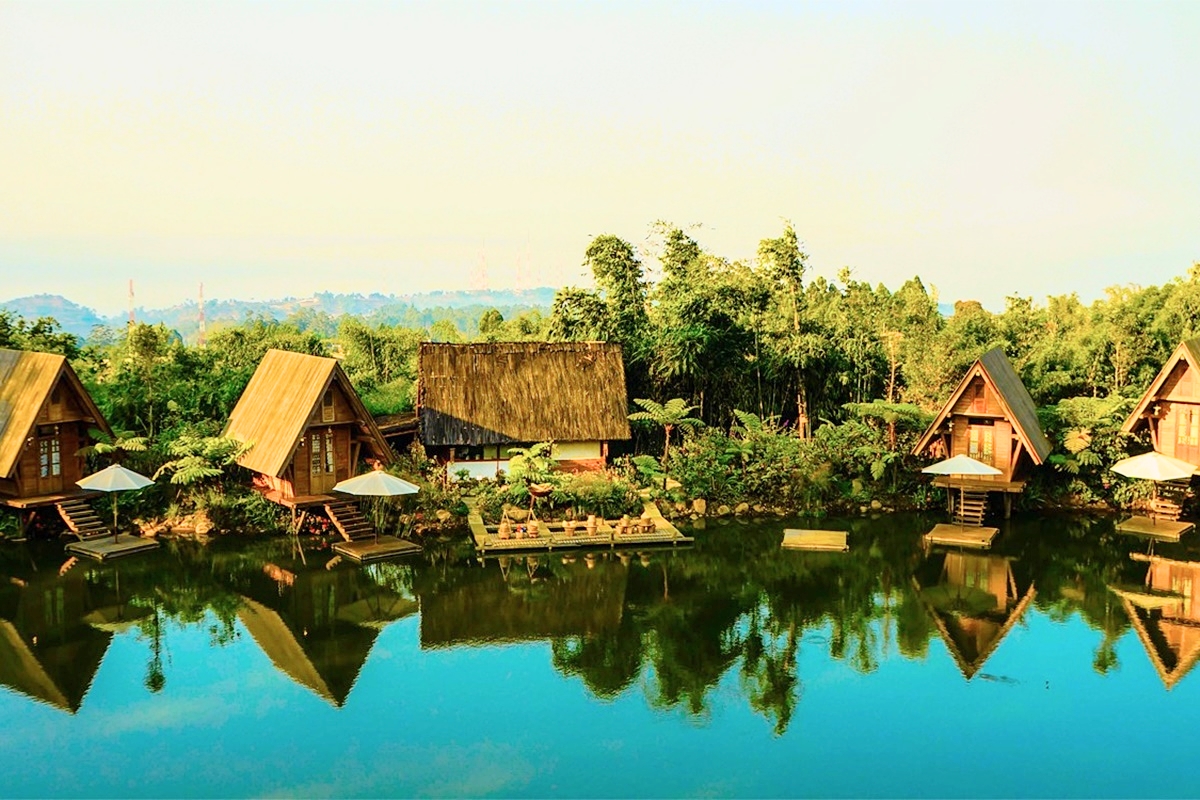 Via : Dusunbambu
5. Farmhouse Lembang
Farmhouse Lembang presents the miniature of a beautiful village, slightly affected by European atmosphere. There are some of the best spots you can visit such as hobbit house, petting zoo, some European buildings, a mini waterfall, costume rental place, souvenir shops, and some restaurants or cafes. The fee for the entrance ticket is fairly cheap, only Rp. 20000/person including free fresh milk or grilled sausage.
Via : Eatoutbdg
6. Sari Ater Hotspring
After visiting all the best destinations in Northern Bandung, you can also continue to soak your body at Sari Ater Hotspring. Administratively, Sari Ater is a part of the Subang district. However, it is very close to Lembang, only 20 minutes driving from Lembang. So don't forget to unwind at the hotspring while in Northern Bandung.
Via : Indonesiakaya
Are you ready to visit Northern Bandung? Don't ever miss these places while in Northern Bandung! You can drive your car, ride your motorcycle, or rent a car from Dirgantara Car Rental Bandung to go there. The driver will drive you to anywhere, including visiting a lot of tourist attractions in Northern Bandung.