Fun Rafting in River Palayangan, South Bandung
Fun Rafting in River Palayangan, South Bandung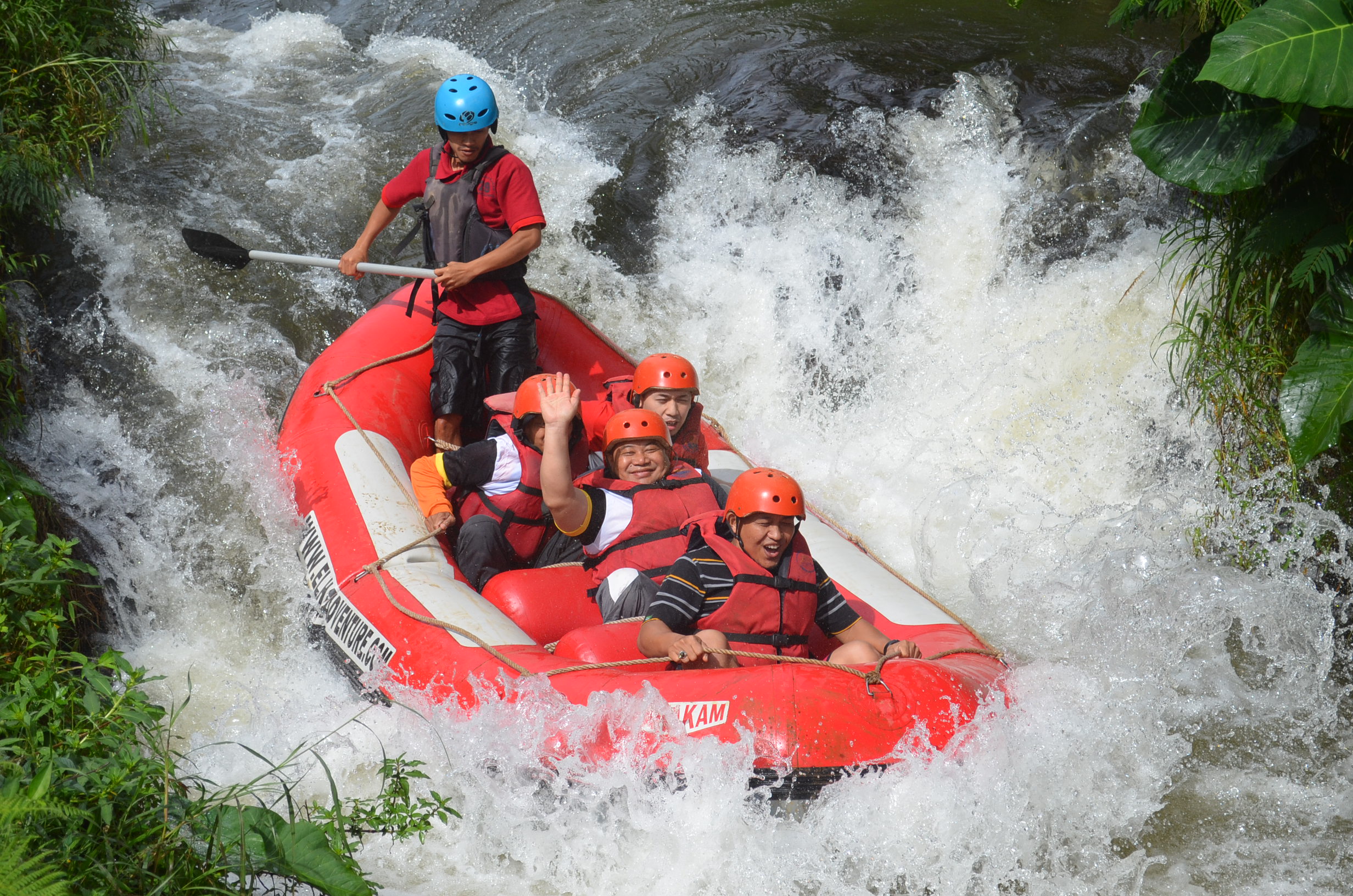 Rafting in River Palayangan. Rafting has become a popular activity. Although challenging adrenaline, but it is this activity that is sought and eagerly awaited. By riding a rubber boat with friends or family along the rushing river makes many interesting things and experiences to be gained. Not only that in rafting activity itself there are benefits that can be obtained that physical exercise that can nourish the body and also the team in the boat kekompakan in conquering river rapids.
Because of the benefits that can create this cohesiveness then rafting or rafting is often the choice of leaders in agencies, organizations and companies for the vacation event members as well as strengthen the team. Well if you are looking for rafting location in Bandung then rafting Pangalengan can be the right choice.
Why Rafting Pangalengan? For rafting or rafting in the area of ​​Pangalengan, South Bandung has many advantages. The first advantage of Pangalengan rafting is its location which is in the Palayangan River with Grade III + or Grade III status.
With a long journey to reach ± ​​4.5 KM, rafting on the River Palayangan in Pangalengan area can be reached within about 2 hours. In the course of rafting here we will find at least 14 rapids that challenge adrenaline. Among the 14 existing rapids there are several rapids in the form of mini waterfalls. From here it will make the experience of rafting here more impressive. Not to mention when the rain then will make the river flow becomes more rapid and more make the atmosphere more challenging rafting.
Although many challenges to be faced in this rafting, but for the security need not be feared because along the path there is a rescue team that will help if participants find it difficult. All security equipment such as buoys and helmets are available and become the standard that should be used. Even before doing the rafting, the participants will be given instructions and guides to do the rafting well and fun.
Check our other article:

Interestingly Rafting Pangalengan in Palayangan River is not constrained by time due to the flow of river water that remains stable without the season affected. From here you can come and do Rafting in Palayangan River anytime.
In addition to having several different levels of rapids, doing rafting in Pangalengan this will make us fascinated. This is because the pangalengan area has a stunning natural scenery and so soothing eye. From the expanse of pine trees and other green vegetation will spoil us along the rafting trip. From here then while doing rafting, you can also perpetuate the excitement and scenery with the camera that will produce cool pictures. Do not forget also the fresh air and pollution free that we can enjoy in this River Palayangan. With all that is presented Rafting Pangalengan this will make all saturated and tired immediately disappear instantly.
Because here there are many operators who serve the activities of rafting or rafting then you must be smart to choose the best rafting operator who has professional and experience. See also the facilities and services provided by the operator. Compare with the price offered. In Rafting Pangalengan tour itself is not only rafting activities that you can follow. For some rafting operators there are also offers packages of other outdoor activities such as flying fox, paintball, ATV and some games that can strengthen the cohesiveness of the team.
Also Read : Top 6 Largest Shopping Mall in Bandung That You Can Visit On Holiday
If all the things you already compare then you can be ready to plan a vacation and a trip to Rafting Pangalengan with family, friends or members of the organization in your agency. To be free when heading to Pangalengan area in South Bandung, you can make Dirgantara Car Rental as Bandung car rental solution. By renting a car in Dirgantara Car Rental a professional then you will be able to enjoy Rafting tours in the River Palayangan with the maximum. Especially with the fleet owned Dirgantara Car Rental rental which is Toyota Hiace to make you can bring all family members or your intansi in one car.