The Charm of Stone Garden Geopark in Bandung!
The Charm of Stone Garden Geopark in Bandung!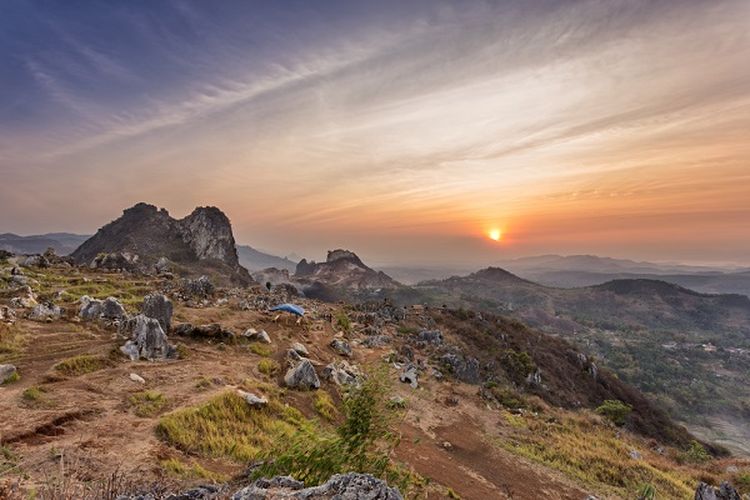 Stone Garden is actually an area or an ancient mining area. But because of its impressive scenery make this place many people visited and became a tourist area. Even because it is so valuable and famous area in Citatah, this Padalarang Stone Garden is then designated as a Geopark and a protected cultural preserve. From here then there is a mention of this area as Citatah Geopark tour.
Ancient Site in Bandung
As the name implies, the main dish of this Stone Garden is a view of an expanse of ancient rocks. The rocks in the Geopark region itself are limestone formed from deposits from underwater animals tens of thousands of years ago. Formerly this area was indeed an ancient lake which later receded and formed the City of Bandung. This geopark area is even believed to be a place where ancient humans lived. The proof here is that we can find the Pawon Cave megalithic site which is thought to be the dwelling place of ancient stone age humans.
Before becoming a tourist attraction and geopark, since the 19th century this Stone Garden area was a mining area. Even up to now, this 2 hectare site still has people using it for mining activities.
Instagramable Spot at Stone Garden
Being in the Stone Garden Citatah makes us feel like there is in Stonehenge, England or in Machu Picchu in Peru. Ancient limestone rocks in Stone Garden is indeed very visible dazzle. Coupled with the green grass landscape makes the scene at Stone Garden so very charming and very qualified to be immortalized with the camera. By taking pictures here we will get the image or Instagramable photos. Thi destination popularity from time after time then make this place as hunters of photography lovers. Even so fascinating this place is not uncommon to use it as the location of prewedding photos.
Check our other article:
Anticipate Hot Weather Because The Sun and Wild Apes
Stone Garden is located at a height of about 700 meters above sea level and make visitors who come to climb for approximately 30 minutes to arrive at the location. The climb itself is not too difficult and can be passed by the children though. Although above the altitude, does not mean the Stone Garden air cool and cold. Especially when you come at noon then the hot air katena hot sun will be felt here. The lack of trees here is also a factor in the heat of the air temperature at this place.
Therefore for you who come here is advised to come in the morning or evening to avoid the hot sun and hot air. If indeed you come during the day then just bring an umbrella or wear sun block cream in order to minimize the heat of the air in the Stone Garden.
Another thing you need to be aware of when traveling to this destination is the presence of wild monkeys that could be carrying your luggage if you do not guard it. So when in this place is often visited by a herd of apes, you must be careful and keep luggage.
Entrance Rates and Stone Garden Facilities
To enter and enjoy Stone Garden tour there is a ticket that you have to pay. Entrance to this geopark is Rp 6.000 / person excluding vehicle parking tariff. Being in this place we have been able to find such facilities as parking areas, gazebos, mosques and toilets. In the future tourism area is still being repaired and carried out the development to make more visitors who come more and more. Stone Garden itself you can go in the Village Citatah, Padalarang, Gunungmasigit, Cipatat, West Bandung regency, West Java.
Also Read : Enjoying The Exotic and Beautiful White Crater
Seeing the charm of Stone Garden Citatah this will certainly make us so imagine its beauty. So while on vacation to Bandung then Stone Garden is already you should visit. To travel to Stone Garden with the maximum you can use the car rental Bandung from Dirgantara Car Rental. Because with a vacation with Dirgantara Car Rental then your tour at this destination will be more memorable and fun.