Challenge Yourself at Hammocking Citatah!
Challenge Yourself at Hammocking Citatah!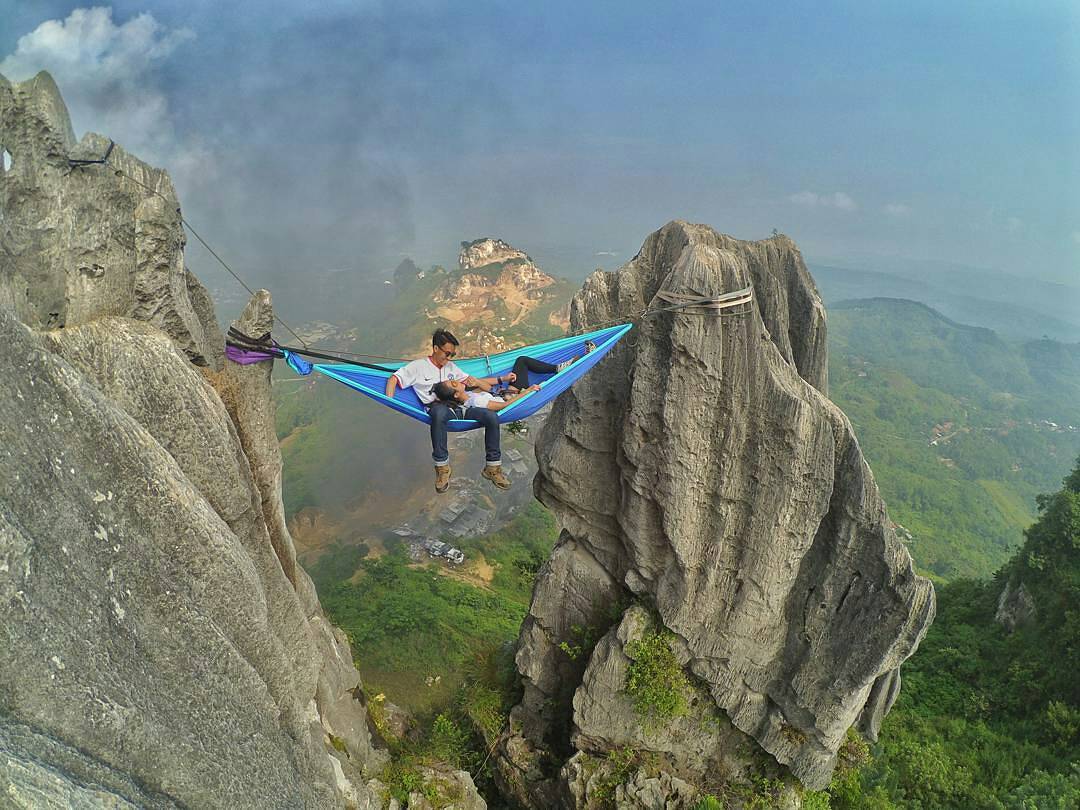 Hammocking Citatah. Hammocking is a relaxing activity in a swing made by spreading the fabric between two trees. After the cloth is stretched then we can relax and swing or lie in the hammocking under the shade tree. But in Cliff Masigit, Citatah, Padalarang, Bandung we will find a different hammocking than usual. Because if generally hammocking stretched between two trees, but in Citatah this hamocking will be spread to two two karst cliffs beneath is a cliff. From the state of Hammocking Citatah that as mentioned will certainly make guts and adrenaline is very challenged. How not the sensation of creeping into the middle of the hammocks that are under the ravine and relax at an altitude of 100 meters will make the adrenaline immediately spurred. Not to mention the gusts of wind that came to make the heart beat will be more unknown.
But because the Citatah Hammocking is in the karst cliffs (limestone) towering so here we can enjoy the exotic landscape of cliffs and rice fields and hills. Not to mention the cool air of the plateau, making the leisure and relaxation activities in Hammocking Citatah increasingly felt optimal. While in Hammocking Citatah we can also see the view of Stone Garden and also the miners of lime and some residents who move in the countryside. From some of the natural charm then when you already feel comfortable in hammocking then we will feel relaxed and make all saturated and tired immediately disappeared.
Although it appears dangerous because the location is above the altitude, but you do not have to worry because Hammocking Citatah has been tested with a qualified security completeness. So to do hammocking here we do not need to bring outdoor equipment because it has been provided by the operator or a local tourism provider. So you just have to come here and follow the instructions of a professional instructor to do hammocking above this height.
In Tebing Masigit Bandung we can try some hammocking places that have a height of 100-150 meters. Three main cliffs that you can choose to be a hammocking location is Citatah 48, Citatah 90, and Citatah 125. Because the location of Hammocking Citatah is on a cliff then before you can enjoy it, we have to do trekking climbing cliffs that slippery and full of shrubs . Trekking trip climbing over this cliff usually takes about 10-15 minutes.
The best time to come to Hammocking Citatah is in the morning or late afternoon. In addition to the air that is not hot, in the morning or afternoon we can also find a sunrise and sunset dish is beautiful and stunning. Do not forget also to bring the camera when here because photo activity here will be able to produce a cool picture and Instagramable.
Check our other article:
To be able to increase the hammocking at the top of this Masigit you have to prepare funds around Rp. 250,000. Hammocking Citatah location is located in the cliffs Masigit, Citatah Karst Area, Mount Hawu, Padalarang, West Bandung. The trip to Hammocking Citatah itself you can travel with two-wheeled vehicles or four wheels. But if you use a four-wheeled vehicle then you can not go any further. Meanwhile, when you come with a two-wheeled vehicle then you can go closer to the cliff. But because before entering the area of ​​Mount Hawu this road is not paved and dusty then you who bring the motor must wear a mask. On the road before arriving in the karst Citatah area you also have to be careful because many large trucks carrying limestone passing muddy mining results.
Also Read : Fun Rafting in River Palayangan, South Bandung
To be more comfortable and comfortable trip to Hammocking Citatah this you can use a car rental in Bandung. And reliable car rental that you can choose to vacation to Bandung, especially to Hammocking Citatah this is Dirgantara Car Rental. By choosing Dirgantara Car Rental will make you have a choice of qualified vehicles such as van rental. With this van rental in Bandung you can invite all family or friends to enjoy Hammocking Citatah tour.